---
Edward Abbey Biography
Life - Death - Praise - Geneaology data
Ascendants of Edward Paul Abbey
Descendants of Edward Paul Abbey
---
In his book Abbey's Road ,Edward Abbey wrote:
"I am [...] descended from an endless line of dark-complected, lug-eared, beetle-browed, insolent barbarian peasants, a line reaching back to the dark forests of central Europe and the alpine caves of my Neanderthal primogenitors."

Thanks to genealogical research done by Kathleen Osmond (granddaughter to one of Ed's cousins) and documented by Ida Abbey (one of Ed's aunts) we can now trace Ed's line back to some of those "barbarian peasants" in central Europe. The research did not quite find his "Neanderthal primogenitors" but at least ancestors back in 16:th century Switzerland.
Many thanks goes to David B. Abbey (grandson to one of Ed's cousins) for supplying this interesting material, and to Kathleen Osmond and Ida Abbey for their great work. This material has now been entered into a Family Tree Maker database by Christer Lindh and is available to anyone seriously interested in doing more research on these families.
Please send an email to clindh@homenet.se if you are interested in researching more or have additional information about Ed's ascendants and descendants.
---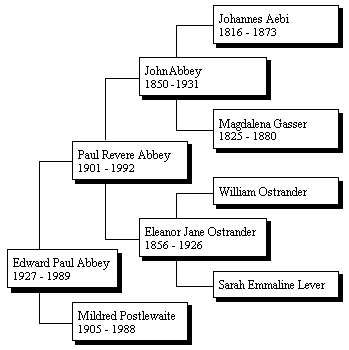 This tree shows the ascendants of Edward Abbey back to his grandfathers father Johannes Aebi who immigrated from Switzerland. The Aebis in Switzerland are traced to at least the 16:th century but if those were included this tree would be too tall.

On 6 September, 1869 the ship Westphalia arrived in New Jersey. On board was a Johannes Aebi, born in Heimiswil, Bern, Switzerland about May3, 1850. In the ship's log he was listed as "Johann Aebby" and the dock records lists him as "Jean Aebbi". He anglicized his name to John Abbey, settled near Ohiopyle, Fayette County, Pennsylvania and then sent for the rest of the family.
Johann and Magda Aebi arrived with their other 10 children to New York on 7 October, 1871 with the German ship Helsatia. Everyone in the family had their names anglicized to Abbey except Friedrich who kept the Aebi name.
The father Johann died of smallpox in 1873, two years after arriving in America. This left the family to fend for themselves, and they had a hard time of it. The youngest son Siegfried also died. It must have been somewhat of a "come-down" for this family; in Switzerland Johann Aebi had been a town official in their hometown Heimiswil and the family was quite wealthy. It is unclear what made them move to America, maybe Johannes spoke well about the endless possibilities in the New World.
A book of Aebi genealogy exists and it traces the Aebi family back to Peter Aebi born in 1562. Many of the brothers and sisters who arrived in America married and some remained single. I don't know if any other branches of the family than that of the oldest son John have ever been traced.
---
On 2 September 1877 John Abbey (the oldest son) married Eleanor Jane. They raised 11 children, where the youngest was Paul, Ed's father, born in 1901.
There's not much information available on the Ostranders. They were Hollanders of French descent, Huguenot. Eleanors father William Ostrander was born in New Jersey, but there must have been many Ostranders in Washington County, Pennsylvania, since two of Eleanor's cousins also married Abbey's.
Eleanor loved poetry a lot and wrote some herself, such as this poem to and about Paul written in October 1918:
When I hear your whistle

Oh I love to hear your whistle
When you're coming home at night,
Tho' the way be dark and dismal,
Or the stars are shining bright,

At times, you don't know it,
But it thrills me with delight
When I hear you gaily whistling
When you're coming home at night,

For I know your mind is merry
And I know your heart is gay
And I'm sure you've not been walking
In the paths that lead astray.

If your heart had lost it's music
And your smile had lost it's light,
You would never come a-whistling,
When you're coming home at night.
---
Paul Revere Abbey married Mildred Postlewaite 5 July 1925. They raised 5 children where Edward was the oldest. At the time of Ed's birth the family lived in the town of Indiana but soon moved close to Home, Pennsylvania where there is now a state historical marker.
Do you have additional information regarding Ed's ascendants? As you see there's no information at all about Ed's mother Mildred for example. Please mail clindh@homenet.se and help build a more complete genealogy database.
As you may know already, Ed married five times and raised five children over the years..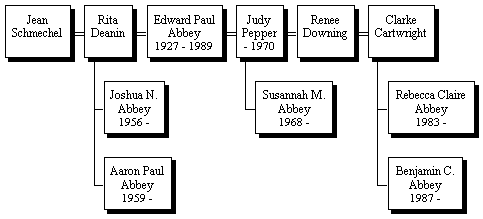 Joshua, Aaron and Susannah may now have children on their own as well.
Do you have additional information regarding Ed's descendants and ex-wives? Please mail clindh@homenet.se and help build a more complete genealogy database.
---