---
Ed at home, photo by Eric Temple*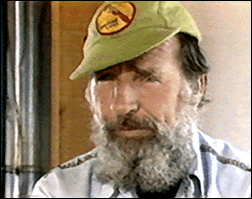 This photo of Ed is a stillframe from a videotaped interview I did with him in December of 1982 in the cabin behind his Tucson home. I had just gotten a job as the environmental reporter with the public tv station in Phoenix, so I figured I'd go for broke and try for an interview with Abbey. He returned my phone call within a day or two and we arranged to meet at his home.
When I arrived, Ed was out chopping firewood in the yard. The first thing he did was light up a cigar and offer one to me. He was very gracious and we spent a couple of hours doing the interview. I had a female assistant with me and Abbey lit up whenever he made eye contact with her.
I edited the interview into a half hour program that was aired in Arizona and later on many PBS stations around the country, but the interesting thing to me was that Ed called me a couple of weeks after the interview and said that he had changed his mind on one of the answers he had given me. He wondered if it were possible to re-shoot part of the interview so he could give a better response. Unfortunately, this was impossible due to the logistics of things, but it gave me an insight into Ed's regard for language and ideas.
A portion of that 1982 interview is included in the documentary I made about Abbey in 1993, Edward Abbey: A Voice in the Wilderness.
Eric Temple (etemp@aol.com)
[The patch on Ed's cap shows a monkey wrench with the text Hayduke Lives.]
---