---

Front cover from new edition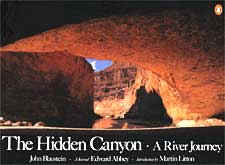 Front cover from original edition
The Hidden Canyon (1977)
A journal (by Ed) of a float trough Grand Canyon in small wooden rowboats (dories), accompanied by remarkable images by photographer and former river guide John Blaustein.
The Hidden Canyon, first published in 1977 by Viking Penguin, remained in print for over 15 years and sold over 52,000 copies.

A revised edition is now available from Chronicle Books. With more than two dozen previously unpublished photographs, this new edition includes an updated introduction by Martin Litton and the original river journal by the late Edward Abbey. Read more about this exiting new edition at John Blausteins web-site.
Library of Congress Data

Blaustein, John, 1947-
  The hidden canyon : a river journey / John Blaustein ; a journal, Edward
Abbey ; introd., Martin Litton.  New York : Viking Press, 1977.  135 p. : ill.
; 23 x 31 cm.

LC CALL NUMBER: GV776.C63 B55 1977

SUBJECTS:
  Boats and boating--Colorado River (Colo.-Mexico)
  Colorado River (Colo.-Mexico)--Description and travel.

ADDED ENTRIES:
  Abbey, Edward, 1927-

SERIES TITLES (Indexed under SERI option):
  A Studio book

DEWEY DEC:  917.88/1

ISBN:  067037010X : $18.95
GEOG. AREA CODE:  n-usp--
LCCN:  77-9481 r82

---

Blaustein, John, 1947-
  The hidden canyon : a river journey / John Blaustein ; a journal, Edward
Abbey ; introduction, Martin Litton.  New York : Penguin Books, 1977.  135 p. :
ill. ; 23 x 31 cm.

LC CALL NUMBER:  GV776.C63 B55 1977b *NOT IN LC COLLECTION*

SUBJECTS:
  Boats and boating--Colorado River (Colo.-Mexico)
  Colorado River (Colo.-Mexico)--Description and travel.

ADDED ENTRIES:
  Abbey, Edward, 1927-

DEWEY DEC:  917.88/1

ISBN:  014004678X : $7.95
GEOG. AREA CODE:  n-usp--
LCCN:  77-9546 r82

---